Semiconductor Gas Filter NASclean®
Manufacturing and inspection equipment
Semiconductor Gas Filter NASclean®
Manufacturing and inspection equipment
Semiconductor Gas Filter NASclean®
NASclean® is a thin-layer metal membrane filter made from sintered micron scale stainless steel short fibers (SUS316L). We take the product from a filter media (stainless steel short fibers) all the way to the final product, a gas filter used in the production of products such as semiconductors, flat panel displays, and solar panels.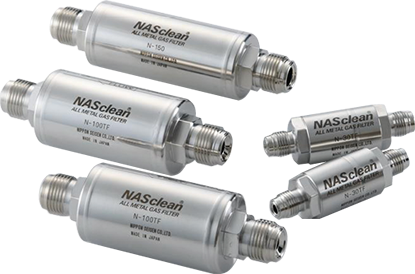 For Process Gases
The only metal membrane filter in the world to use stainless steel short fibers.
Achieves low pressure loss and high particle exclusion.
Suited to flow less than 100 SLM, useable for various process gases.
For Bulk Gases
Through pleating the filter media's shape, low pressure loss is achieved even with high flow volume.
Since it's all metal, high temperature baking is possible.
Capable of dealing with flow up to 3000 Nm³/h.
For Component Protection
Component protection filters for MFC, valves, regulators, and more.
Depending on application, it's possible to choose between a low pressure type and a high pressure type.
Can be installed into existing pipes.
For IGS Panels
Filters for integrated gas panels, compatible with 1.125W-Seal, 1.125C-Seal, 1.5W-Seal.
Miniaturized through use of pleated-type media.
Through use of mechanical seals, the media part's composition requires no welding.
For Diffusers
High speed venting is possible through use of pleated-type media.
Contributes to product yield rate via preventing the rise of particles.
Design based on various chambers space is possible.
For Process Gases

For Bulk Gases

For Component Protection

For IGS Panels

For Diffusers
Other Manufacturing and testing equipment & parts products
YSystems PL mapper
Alphax LD testing and sorting system
Origin Electric cap welder
Four Technos die bonder
Four Technos wire bonder
Alphax LD temperature characteristic testing system
FTD alignment and welding system
For inquiries about Gas filters/Pressure sensors