Die bonding process [Four Technos]
Manufacturing and inspection equipment
Die bonding process [Four Technos]
Manufacturing and inspection equipment
Die bonding process [Four Technos]
Die bonding process
[Four Technos]
For TO-CAN and Butterfly package

Automatic Die Bonder
Mode:FT-4000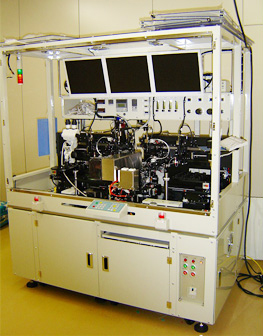 For TO-CAN and butterfly packages
Bonding to the base package is also possible
Four Technos Inc. is a leading providing provider of bonders exclusively for optical modules in Japan.
Its fully automatic machines integrating its technologies are highly regarded by users both inside and outside Japan.
FT-4000 Die Attach system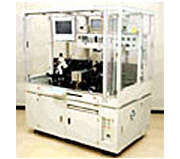 Die bonder developed based on optical devices.
Die bonder for mass production handling many types in which work can be changed easily by customers.
Die bonding system can be selected from thermo compression bonding or conductive paste.
Are equipped with two types of transfer systems (for small and large chips), and simultaneous die bonding of different types of chips is possible.
The bonding and work transfer tools can be replaced by a single operation, with no adjustment necessary.
FT-5000 Die Attach system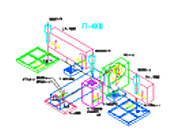 The model FT-5000 is used for high-precision bonding. Positioning is made through image processing. It features high precision but shorter cycle time and several chip handlings. This gives it the advantage of being able to process several chips simultaneously.
Product specifications
Bonding system
Thermo compression bonding (eutectic die bonding) and conductive paste can be exchanged.
Die bonding precision
±10μ – ±30μ (depending on work/chip shape and precision)
Machine cycle time
6 sec (when two dies are bonded, excluding die bonding time)
Heating system
Stem
Constant heating by a cartridge heater
Flat package
Temperature control by a ceramic heater
Bonding mode
Various modes such as scrub can be selected.
Heating temperature
Room temperature – 500 °C
Positioning system
(can be selected)
Mechanical positioning
Adjustment of recognition position
Bonding load
0.049 N (5 gf) – 1.96 N (200 gf); Screws need to be replaced.
Work supply form
Supplied and stored with a dedicated tray (the same tray)
Number of work trays supplied
Selectable are units for small-lot production only for flat surfaces and those for mass production which can set several trays.
Chip supply form
2 inch, 4 inch, and extension sheets (can also be supplied simultaneously)
Chip recognition method
Centroid detection and pattern matching can be selected.
Number of chip trays supplied
For 2 inch, customers can change the supply form of chips (9 chips each for small chips and large chips).
Work size
□0.5mm~□20mm(Unit replacement is necessary.)
Chip size
□250μm~□2mm(Collet replacement is necessary.)
Bonding tool (designed according to specifications)
Flat vacuum collet
Pyramid vacuum collet
Clog-shaped vacuum collet
Mechanical chuck collet
Other special collets
Options
Supply of ribbon-shaped brazing metal
Absorption of variation in work height by load cell
Die bonding rotating 90° from chip pickup
Specifications
Power supply
220 VAC, 200 VAC, 110 VAC, 100 VAC, 50/60 Hz can be selected.
Power consumption
Approx. 20 A (at 100 VAC)
Compressed air
500 kPa (5 kgf/cm2) 10 l/min
Nitrogen
300 kPa (3 kgf/cm2) 30 l/min
Vacuum
Supplied with the included vacuum pump
Dimensions
Approx. 1600mm(W) x 1100mm(D) x 1900mm(H)
Weight
Approx. 1000kg
Other Manufacturing and testing equipment & parts products
YSystems PL mapper
Alphax LD testing and sorting system
Origin Electric cap welder
Four Technos die bonder
Four Technos wire bonder
Alphax LD temperature characteristic testing system
FTD alignment and welding system