Alphax LD testing and sorting system
Manufacturing and inspection equipment
Alphax LD testing and sorting system
Manufacturing and inspection equipment
Alphax LD testing and sorting system
LD chip testing and sorting system with high-quality, high-precision, and high-speed stability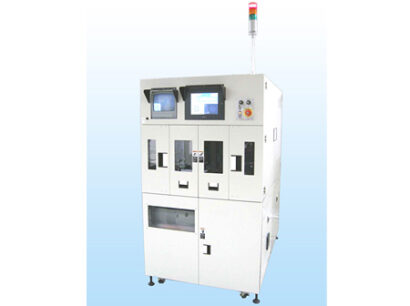 Alphax LD testing and sorting system
Industry-standard machine acknowledged by users all around the world.
Supplies LDs in a chip state using expanded sheet and execute loading automatically. Performs fully automated high-speed measurement, from measurement to sorting.
Includes various types of special measurements (e.g. high-frequency superposition, backlight measurement) that set I-L, FFP, and λ characteristics as the standard.
The camera monitors and corrects the presence and position of LD chips at the chip stop position of the mechanical section (up to 8 points).
Temperature conditions can be measured at high and normal temperatures (two types) between +25 and 90 °C.
Supported types and temperature settings can also be changed using the touch panel.
A camera for maintenance is installed, which eases maintenance, and can detect failures in the machine using the reference LD.
Other Manufacturing and testing equipment & parts products
YSystems PL mapper
Alphax LD testing and sorting system
Origin Electric cap welder
Four Technos die bonder
Four Technos wire bonder
Alphax LD temperature characteristic testing system
FTD alignment and welding system
For inquiries about Manufacturing and inspection equipment for laser diodes