BUSINESS SCENE
26 years of Die Bonders
Custom equipment
The machine that is used in back-end semiconductor manufacturing is a die bonder. What we handle is the packaging of individual semiconductors for one specific function, called discrete devices. These are customized devices made according to various specifications under built-to-order manufacturing.
Discrete semiconductors widely used in everyday home appliances and IT equipment have various specification and condition requirements depending on their application. The items being made change, so the technology changes too. What is required is truly customized manufacturing.
Without connections with manufacturers with broad knowledge and experience in core die bonding technology who will undertake collaborative development, it is impossible to develop and deliver devices that meet client orders. Factors such as speed, accuracy, cost and delivery deadlines are naturally important. E-Globaledge has already sold in excess of 2000 die bonding units which are now operating locally and overseas.
Advances in semiconductor technology are moving at a pace so rapid it can be described in terms of minutes rather than days. Mobile telephones and home appliance products have also become astonishingly smaller and more energy-efficient compared to a decade ago. This is achieved by making electronic components smaller and lighter, and enhancing performance.
Manufacturing processes are also evolving. Innovation is required to meet changes in specifications where small semiconductor wafers have changed to high yield, large diameter ultra-thin wafers, and packaging requires a level of precision that has moved from a micron to a nano level.
The die bonder offered by E-Globaledge, that is still operating to this day, was in fact manufactured in 1994. Our clients have been using it, while we carry out maintenance and update spare parts and specifications. The equipment we designed and developed in the 20th century has the capacity to manufacture 5G electronic devices. As developers we are very proud of this history.
We will continue to support client business well into the future through the development and provision of custom devices applying core die bonder technology that we have supplied for many years.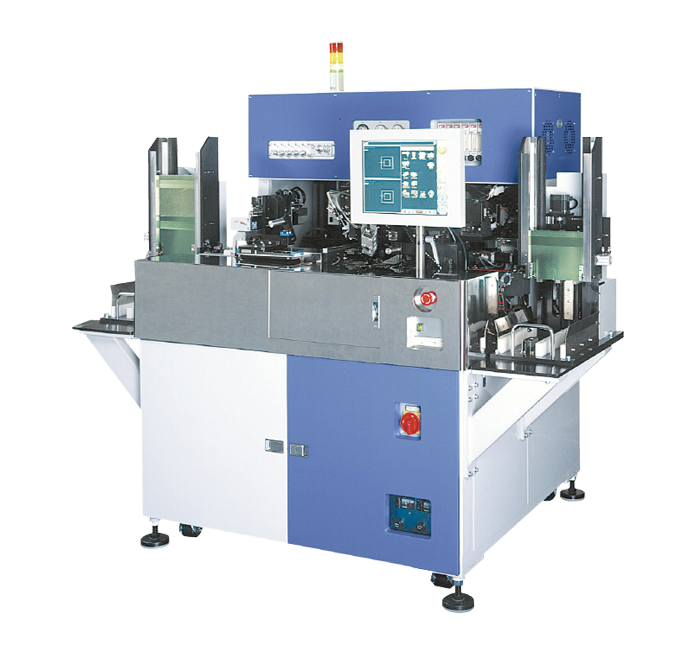 Fully Automatic High-Speed Die Bonder
Products