Manufacturing and inspection equipment
Manufacturing and inspection equipment
Custom equipment
Providing custom products applying die bonder core technologies
Die bonder equipment is essential in the packaging processes of individual semiconductor products called discrete semiconductor devices. We have supplied such equipment for many years, and have sold more than 2,000.
We apply the core technologies of die bonders that we have cultivated, according to the needs of new generations, and we design equipment that satisfies the needs of customers and provide production equipment and testing equipment both inside and outside Japan.
Semiconductor manufacturing systems
and relational materials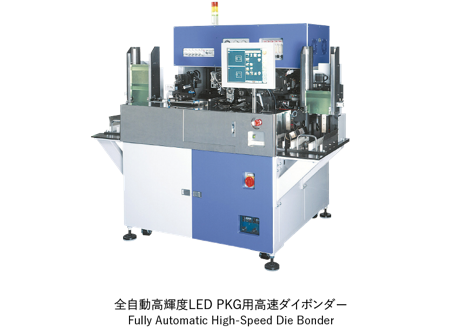 E-Globaledge has a variety of manufacturing systems (including materials) which have sold well and which demonstrate reliability in manufacturing processes for semiconductor components and components used in state-of-the-art technologies. In addition, we have global sales networks based on our achievements to date, which enable us to provide our customers in a broader range with product groups we are proud of in various forms, from development projects to customized products and provision of solutions for production lines.
Products Line-up
Texus fully automatic solder die bonder [DBD3570S]
Texus fully automatic epoxy die bonder [EBD4350S]
Texus fully automatic epoxy die bonder [EBD4600S]
Texus fully automatic flexible epoxy die bonder [DBD4200R]
Sanyo Seiko high temperature observation equipment [SK-5000]
For inquiries about Custom equipment