Cap welding process [Origin Electric Co., Ltd.]
Manufacturing and inspection equipment
Cap welding process [Origin Electric Co., Ltd.]
Manufacturing and inspection equipment
Cap welding process [Origin Electric Co., Ltd.]
Cap welding process
[Origin Electric Co., Ltd.]
Fully wide range system from manual system for R&D to full automatic system
Automatic Cap Welder
Model:LA-3000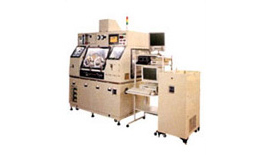 Systems which can adjust light axes are also available.
High Reliability of repeatability of X and Y positions.
To meet our customers' demands, we offer a wide range of products from manual machines to full automatic machines.
This equipment hermetically seals the header and the cap in an N2 environment. We have various types of baking ovens that take account of cycle time to suit the customer's needs.
LA-3000 automatic cap welter with light axis adjustment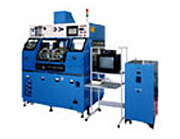 This equipment adjusts light axes when welding a cap with a lens to the header in the assembly process of LD modules.
We have provided cap welders for years, but this Model LA-3000 is a full automatic machine to meet customer demands for machines that can adjust light axes as optical modules become more sophisticated.
L-1000 manual type cap welder
This L-1000 is a manual cap welder with excellent cost performance. Origin's resistance welders are capacitor types, which accumulate energy necessary for welding in the capacitor, and release it at a burst through the welding transformer. One of its advantages is that the power consumption is smaller than that of AC type welding.
Product specifications
With Visual Alignment
With Mechanical Alignment
Without Alignment
Semi automatic
(w/o loader and unloader)
LA-1000
—
L-1000
Full automatic
LA-2000
—
L-2000
Full automatic
LA-3000
LA-3000M
L-3000
Model No.
LA-2000
L-1000
Type of Alignment
Visual Alignment
—
Reference point
Combination of following reference points :
Lens : (a) Center of lens, or (b) Preset center
Header : (a) center of laser beam or (b) LD chip
—
Welding accuracy
±20um
—
Cycle time
30sec
(Depending on Operator)
Model No.
L-3000
LA-3000M *1
LA-3000
Type of Alignment
Non Alignment
Mechanical Alignment
Visual Alignment
Reference point
Part's center judging from outer shape of work
Lens : Preset center of lens Header : Preset position of LD on the header
Combination of following reference points : Lens : (a) Center of lens, or (b) Preset center Header : (a) center of laser beam or (b) LD chip
Welding accuracy
±50um
(Mechanical accuracy)
±20um
(Repeatability: ±10um)
±20um
Part's accuracy
α
α
—
Cycle time
Single type: 5.5sec
7sec
30sec
Turn table type: 3.3sec
Total accuracy
±50um+α
±20um±α±β
±20um
Other Manufacturing and testing equipment & parts products
YSystems PL mapper
Alphax LD testing and sorting system
Origin Electric cap welder
Four Technos die bonder
Four Technos wire bonder
Alphax LD temperature characteristic testing system
FTD alignment and welding system
For inquiries about Manufacturing and inspection equipment for laser diodes