Industrial equipment / IoT products
Broadcast equipment
Industrial equipment / IoT products
Broadcast equipment
Supplying broadcast systems, mainly in the CIS region,
and Vietnam, leading to high-quality broadcasting.
High-quality video has expanded globally, from HDTV to 4K and 8K. We provide state-of-the-art video equipments and facilities that allow users to engage in highquality video production. By concentrating efforts on providing a support system that gives our customers peace of mind and on providing suitable broadcast environments, we contribute to the digitization and improvements in quality of broadcasts in each country and region.
From high-quality cameras to relay vans and studio equipment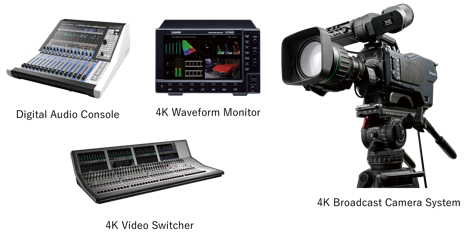 With the hosting of international sports competitions in the CIS region, and Vietnam, opportunities have increased for people to experience high-resolution videos with relay broadcasting and the like using high-quality cameras. In addition to broadcast studio cameras, we provide video and audio transmission devices, signal-processing devices, and the latest broadcast equipment suitable for the 4K/8K age. We also make use of the expertise we have cultivated thus far in our business concerning broadcast equipment and facilities to manufacture high-operability relay vans used for stage and sports relays (equipment embedding for editing, image switchers, etc.), handle products of multiple manufacturers, and tackle construction support for highperformance studio equipment according to the customer's concept.
Overseas businesses of E-Globaledge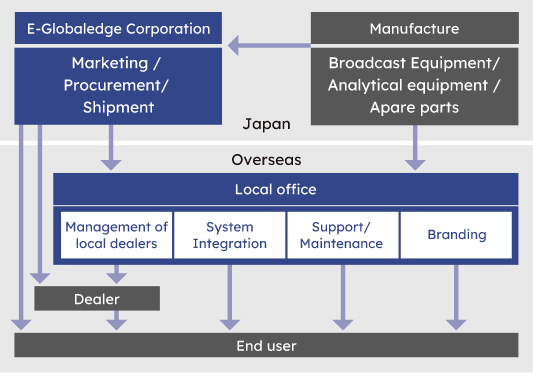 E-Globaledge support sales and after-sales services for analytical instruments/broadcast equipment in the CIS countries, and Asian countries.

There is always concern for local circumstances, installation, and services after the sale to deploy business in these regions. E-Globaledge supports your business deployment through our local offices, market knowledge, service networks, and system integration.
For inquiries about Broadcast equipment